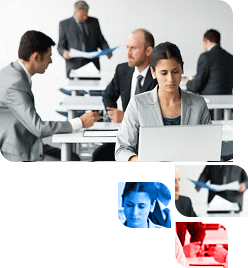 Success requires both talent and practice. In business, staying on top is a result of constant work and development. When it comes to doing the job, acquiring practical skills and knowledge is the only method to improving or even sustaining performance. Properly transferring skills and insights takes effort, and often a blended learning approach is necessary.
AdroitOne provides instructional solutions for both E-learning and Instructor-led Training (ILT), responding to tactical and strategic business challenges worldwide. With expertise among a broad scope of learning methods and modalities in catalog and custom development practices, AdroitOne builds offerings crafted to be consistent with your desired outcomes.
From problem discovery, to instructional design, implementation, deployment, and evaluation, the AdroitOne methodology is a best practice. In the IT universe, the release of knowledge, skills, and behaviors throughout your enterprise empowers people much the same way hardware and software is regularly upgraded.
Services
Training and support
Curriculum development
Custom content development
Documentation
Assessment and testing
Needs analysis
Hosting capabilities
Subject Matter Areas
Internet/web development
Programming and operating systems
Telecom software and hardware
Office, e-mail, and end user applications
Financial/HR, CRM, & ERP
Project management
Communications skills
Other soft skills
Proprietary applications
Delivery
Instructor-led training
E-learning courses
Blended learning solutions
Online mentoring
Internet and video conferencing
Virtual labs (e-labs)
Call center training